On December 14th, Riis' Senior Services program celebrated a wonderful milestone:  the graduation of its inaugural technology class. The program, which ran throughout the fall, was facilitated by Senior Planet and designed specifically to make technology more accessible to the senior adults living in the Queensbridge housing development.
Senior Planet is a project of Older Adults Technology Services (OATS) – a New York-based non-profit organization that specializes in providing training and support to older adults in using technology to improve their quality of life and enhance their social and civic engagement.[1] They offer workshops in both English and Spanish, taking into consideration the multicultural attributes of the communities living in New York City. The workshops cover a variety of topics to help seniors learn and improve their skills. For example, the Beyond the Basics workshop teaches students how to use email, search for information on the internet, learn the basics of social networking, and protect their personal information.
The fall computer classes for seniors at Riis Settlement started in October 2016. Due to high demand, four different workshops were held twice a week for ten weeks. These included Computer Basics in English, Computer Basics in Spanish, Beyond the Basics, and Introduction to Using Tablets. Each workshop was comprised of 15 students and covered a breadth of material. The graduation ceremony was a proud moment for the students and many were on hand to congratulate them on their achievements. This included Riis Settlement Executive Director Chris Hanway, Executive Director of OATS Thomas Kamber, Director of Senior Services Robert Madison, Queens Borough President Melinda Katz and Chief Technology Officer of the City of New York Miguel A. Gamiño. Each student was awarded an official certificate of completion and following the ceremony a party was held for all.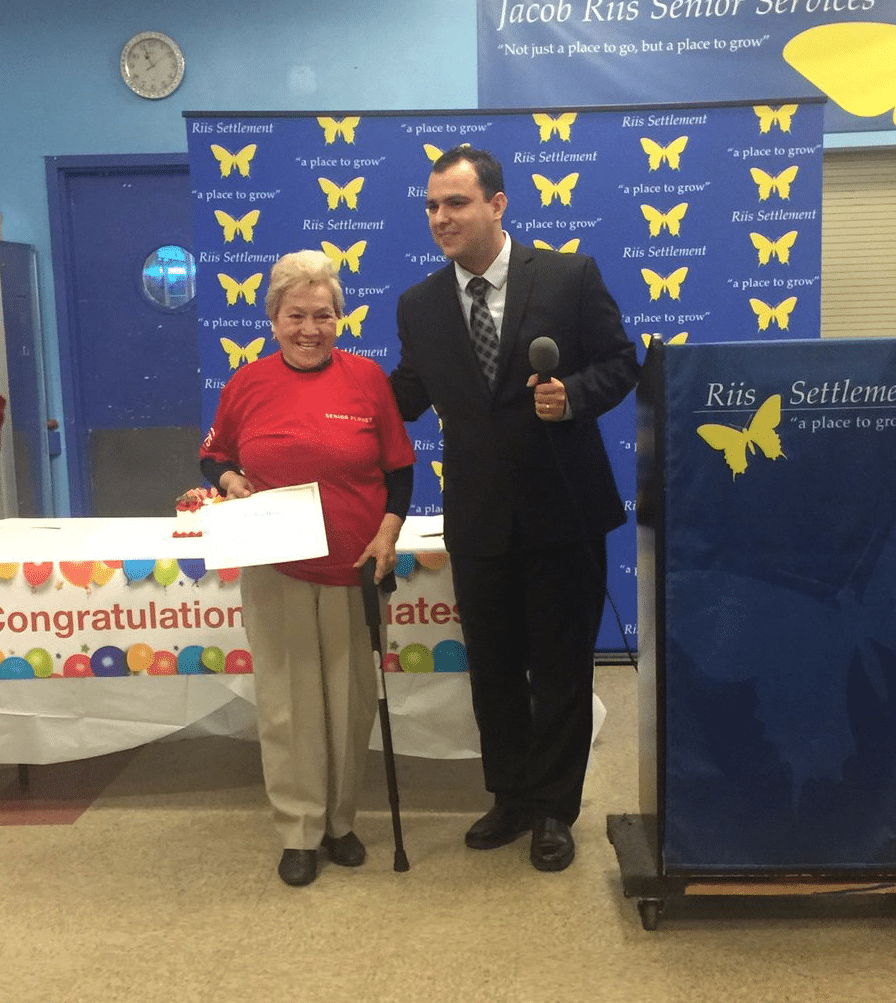 Living in this era of technology it has become more essential than ever for people of all age groups to learn the skills necessary to navigate the online world. More and more entities are moving their business online, and if our seniors are to remain engaged and connected, it is vital that they learn how to navigate those online platforms. It is especially important for NYCHA residents, as the agency recently changed the tenant recertification process from paper to online. Additionally, many benefits such as social security must now also be accessed online. With that being said, our classes could not have happened at a more appropriate time, and their positive impact was significant. According to the Director of Senior Services Robert Madison, the most meaningful outcome was "the way the seniors embraced the classes and gained confidence in their ability to learn." He further added that "the feeling of accomplishment upon opening their first email account or making their first Skype call to family was extremely rewarding."
Riis Settlement's long-running commitment to the residents of Queensbridge has resulted in numerous partnerships and collaborations that have brought much-needed services to the community over the years. The Senior Planet project, which was facilitated by OATS and made possible with funding from the City is a wonderful example of how agencies can come together to enhance the quality of life for the city's most vulnerable residents and ensure that nobody gets left behind. As we embark on the second cycle of classes, we look forward to helping more and more of our seniors realize their capabilities and embrace the idea that technology truly can be for all.
[1] http://www.seniorplanet.org/about-seniorplanet-org/