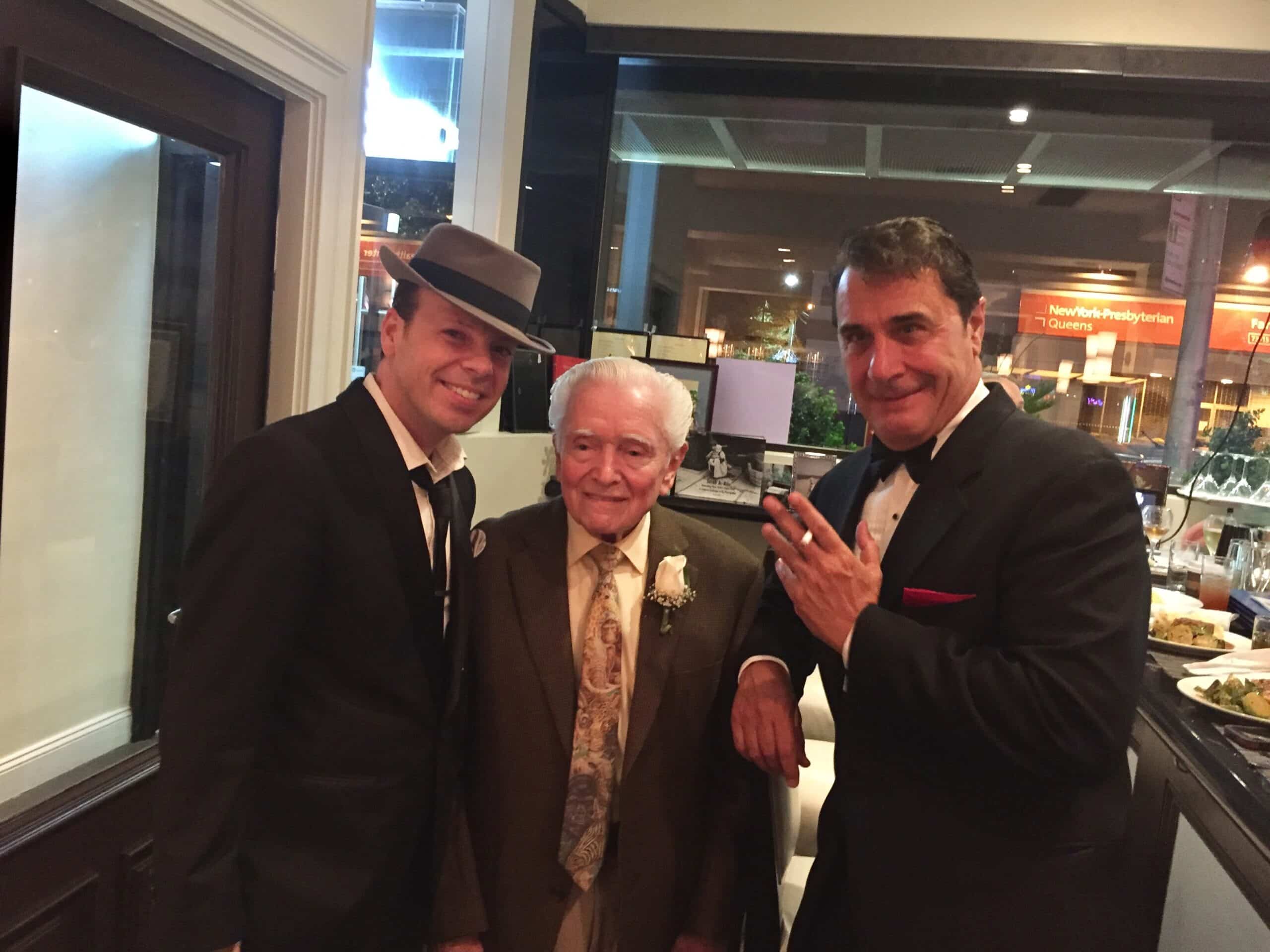 The earliest incarnation of Jacob A. Riis Neighborhood Settlement was founded 128 years ago, and since then countless lives have been impacted by our work. Our legacy,  like those of many settlement houses, is a rich tapestry woven together by people, events, stories, meanings, and memories – some of which, understandably, have faded with the passage of time. And yet, retaining a connection to our past is more than just an exercise in nostalgia. Knowing where we come from and acknowledging the contributions of those who came before us enables us to ground our work in something greater than the day-to-day minutia and helps to reaffirm our raison d'etre.
It is easy to gain hold of Riis' past when one speaks with Bob Miner (pictured above center). Bob is a former executive director of Riis Settlement (1960-1990), and a 96-year-old walking treasure trove of memories so sharp you might find yourself suspiciously wondering if his tales of yore actually happened just yesterday. We sat with him recently for a trip down memory lane that was both enlightening and inspiring.
Bob joined Riis in the early forties as a gym instructor and sports coach when it was located at 48 Henry Street in Manhattan – leaving briefly from 1943-1945 to enlist in the service as a bomber pilot. Upon his return, he resumed work as director of the athletics department. When he returned, Riis Settlement was still located at 48 Henry Street but the then executive director, Helene Nelson, was already having conversations with the New York City Housing Authority (NYCHA) around the needs of public housing residents. There were many settlement houses tending to the needs of the Lower East Side, so it made sense to begin serving the boroughs. Shortly thereafter the agency spread its wings and began offering services/ activities for all ages at a number of satellite sites including Red Hook Houses, Marcy Houses, Queensbridge Houses, and the Stephen Foster Houses. At the Stephen Foster Houses they operated a dramatic arts program that was overseen by Robin Gibson, a company stage manager with the renowned D'Oyly Carte Opera Company and the first British stage manager at the Radio City Music Hall.
In 1952, they sold the building at Henry Street to raise much-needed funds and consolidated all their activities at Queensbridge Houses. One of the first programs they started at Queensbridge was a senior services program, which was overseen by comedic actor Arnold Stang's aunt, Rosetta. Arnold stared in movies alongside the likes of Milton Berle and Frank Sinatra, and, because of Arnold's celebrity status, Rosetta was able to secure many donations for the center. In those early years, ED Helene Nelson (a celebrity in her own right: her real name was Baroness Liljencrants) organized grand galas in the ballrooms of Queensborough Plaza, where some of the New York City's elites would come together to raise large sums of money for the agency.
Over the following decades the agency offered a wide range of activities for youth and adults. The center had many championship winning basketball teams, such as the Riis Raiders and the Riis Rockets; baseball teams; and boxing teams. The ring and cleats they used were donated by none other than Sugar Ray Robinson himself, who came to the center to teach the youth to box. Riis teams would compete against teams from the Police Athletic league, Boys Athletic League, and the NYC Parks Department. And, both Silvercup Bakery (now the famed Silvercup Studios) and neighboring Canada Dry would regularly finance uniforms, trophies, and referee fees for tournaments.
There was also an African cultural program, which was facilitated by Gus Dinizulu, founder of the troupe called Dinizulu and His African Dancers, considered one of the oldest African dance companies in America. Outdoor dances were held in the handball court and outdoor movies in the basketball court. Each year, the agency would hold an African cultural festival in the park and Butterfly McQueen of Gone with the Wind fame would attend as a special guest of honor.
Of all of the people who Bob can recall passing through Riis, none has a more remarkable story than Gemma LaGuardia Gluck. Gemma was the sister of New York City Mayor Fiorello LaGuardia and lived in Budapest when WWII broke out. When the Nazis invaded in 1944, Gemma and her family were sent to the notorious Ravensbruck concentration camp where they remained until the war ended. It would be another two years before Mayor LaGuardia could secure passage to the US for Gemma, her daughter Yolanda, and her grandson Richard. Her husband, unfortunately, did not survive internment. When they finally made it to the US, 65 year old Gemma and her family came to live in Queensbridge Houses. Her reunion with her brother was short-lived, as he died a few months later. Gemma spent the rest of her years living in Queensbridge, and for many of those years taught English and piano to the youth at the center. One of her young students was Charlie Smalls who excelled and went on to study music at Julliard. Charlie would eventually garner worldwide fame as the composer and lyricist of the acclaimed musical, The Wiz.
These are but a few of Bob's many, many vivid recollections of his time at Riis Settlement. Connecting to the past through his stories, we are reminded that the extraordinary can be found in the most seemingly ordinary of places. Being a place where such disparate lives can intersect and reciprocity can endure is something to remember, something to be proud of, and something to continue striving for.