Isacha Tucker, a model high school student and athlete, has been part of the Riis Settlement family since he was in the 6th grade.
Tucker, a senior at Archbishop Molloy High School, continues to be an active, engaged participant in the Teen Program and last year traveled to Ribe, Denmark and Copenhagen as a member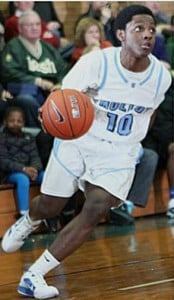 of the Danish Youth Exchange for 2011. He still talks about how much he enjoyed his time in Ribe, which marked his first time leaving the country, and made lasting trans-Atlantic friendships.
If his academic and athletic success is any indication, it will have been the first of many trips abroad. Thanks to the support provided by Riis Settlement's comprehensive programs, not to mention his own hard work and determination, Tucker has excelled at his studies, maintaining a 90 average, while playing the starting guard position on Molloy's basketball team. Having proved himself to be a leader and role model, he was recently hired by Vanessa Quinones, director of Riis Academy- I.S. 126, to be a youth worker at our thriving campus at that local middle school.
---
Youth Services Contact: