RESOURCES and REGISTRATION INFORMATION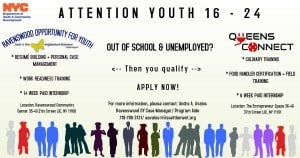 Ravenswood OY
Ravenswood Opportunity for Youth is a DYCD funded program that allots 14 week paid internships at various work sites in Astoria, Queens to youth 16-24 who are both out of school & unemployed. The program provides case management to help participants in need support services , along with weekly work readiness training.
Ravenswood OY Official Application PART I
Ravenswood OY Official Application PART II
Queens Connect
Queens Connect is a DYCD funded program that teaches culinary and life skills to support Queens youth ages 16-24. It also provides weekly food service training in order for participants to achieve success in that industry
To register for Riis Academy programs, the first step is to complete an intake forms. Please download and fill in (to the best of your ability) this form.
Riis Academy Registration Form, Version 2012
Next, during registration week (check back for official dates/times), bring this intake form with you to complete your registration with our staff.
Riis Academy operates at four campuses throughout the western Queens area including two community centers and two local schools.
Queensbridge Houses: K-12th
Ravenswood Houses: K-12th
P.S. 166: K-5th
Information Technology High School: 9th-12th
---
Youth Services Contact:
RiisAcademy@riissettlement.org